Click here to download a printer friendly (pdf) version
CROP AND WEATHER REPORT
For the Monthly Report Ending July 15, 2018
GENERAL WEATHER FOR THIS AREA: Weather conditions in Southwestern Minnesota (SWMN) have been extremely wet this past month, with a few of the areas receiving 8 to 14+ inches of rain. Some of the highest rainfall totals were in Murray County, where areas between Lake Shetek and Slayton received 8-10 inches of rain on July 3rd. Thousands of acres of crop have drowned out as a result of the excess moisture and flooding in Murray County. Even though Cottonwood County did not receive nearly as much rain at that time, the Des Moines River reached its second highest point ever recorded in Windom at 23.4 feet on July 7th. The highest flood stage was 24.7 in 1969.
Figure 1 – The Des Moines River overflowed beyond its banks this year flooding most farms that border it.
Fortunately, there has been a great deal of conservation efforts in the past decades with a lot of land along the Des Moines River (and other rivers & streams) that have been enrolled into the Conservation Reserve Program (CRP) and Reinvest in Minnesota (RIM) programs. Newer bridges and removal of dams in Windom & Jackson have all helped mitigate the damage. That being said, it has been yet another sign of a very challenging year here in SWMN. The water is starting to recede, but slowly, as we have continued to receive rainfall with more in the forecast again this week. There have been a few reports of hail in our region, but they have not been very severe.
Daytime high temperatures have ranged from 67 to 94 degrees and nighttime lows from 57 to 76 degrees since June 16th according to the Southwestern Minnesota Research and Outreach Center (SWROC) in Lamberton, MN. We have observed an above average amount of sunshine as well in the past 30 days. According to the SWROC in Lamberton, we have had 1,457 Growing Degree Days, which is 226 units more than the average for this point in the year.
SOYBEANS: The soybean crop continues to develop. The plants are six inches to a foot tall depending on the planting date. Some farmers replanted the areas of fields that flooded and those beans are just sprouting out of the ground. The delays in planting and significant rainfalls throughout the growing season has caused a slow start to soybean production, this year so far.
Nationally, 71 percent of the soybeans are rated good to excellent compared to 61 percent last year. Crop conditions for soybeans in Minnesota are rated 75 percent good to excellent. We think that the crop condition rating in Minnesota is over-stated and will come down in future reports. Fifty-six percent of the soybeans in Minnesota have started blooming, which is 4 days ahead of the average.
Weed control has been challenging, but overall good to-date. There have been very few windows of opportunity to spray the post-emergent application of herbicide to control broadleaves, mainly waterhemp, and volunteer corn. The predominant herbicides usually need to be applied by the 4th of July. There were some extra efforts put forth by many to get the job done by the 12th, this year, despite the wet field conditions. All herbicide applications have been completed at this point, except some cases of extreme weed pressure that will need another application of glyphosate within the next 2 weeks. The soybeans still have a ways to go before they canopy but overall yield potential should be close to average. In the coming weeks, we will begin monitoring for aphid pressure. If/when, pest populations reach an economic threshold, we will be taking appropriate control actions.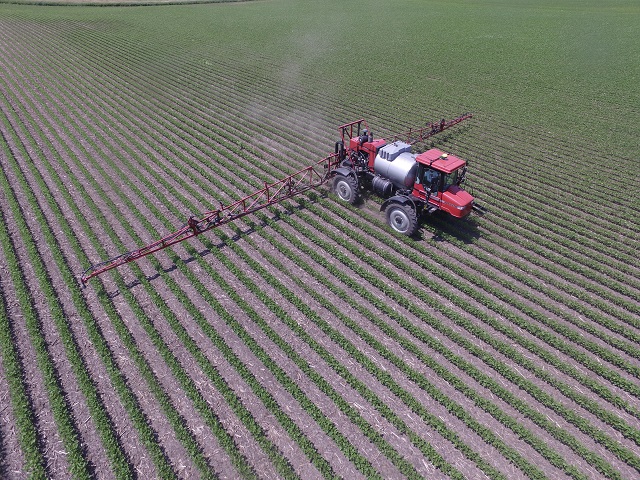 Figure 2 – Soybean spraying on July 6th.
CORN: The corn crop is anywhere from waist to shoulder high, depending on the planting date. Overall, there is considerable variability across the board, current conditions depend on the planting date and the amount of drainage tile in a field. Some of the earliest planted corn and best-drained fields are starting to push tassels, while the later planted corn on the heavier and wetter soils are going to see substantial yield loss.
Nationally, 75 percent of the corn is rated good to excellent, which is better than the 67 percent rating at this time last year. Crop conditions in Minnesota are rated at 77 percent good to excellent for the corn. We believe these crop condition ratings will continue to decline in future reports.
Average to below average yields are expected as a lot of fields have significant areas where the crop drowned out and will produce nothing. Herbicide and mid-season nitrogen application were completed and the crop should not need any further inputs through harvest. Due to the multiple large rain events, nitrogen leeching has become prevalent. Weed control in the corn has been good. This year the pre-emerge herbicide did a great job in holding down the weed pressure, which was extremely valuable in a year where getting the second application down has been a struggle due to wet field conditions.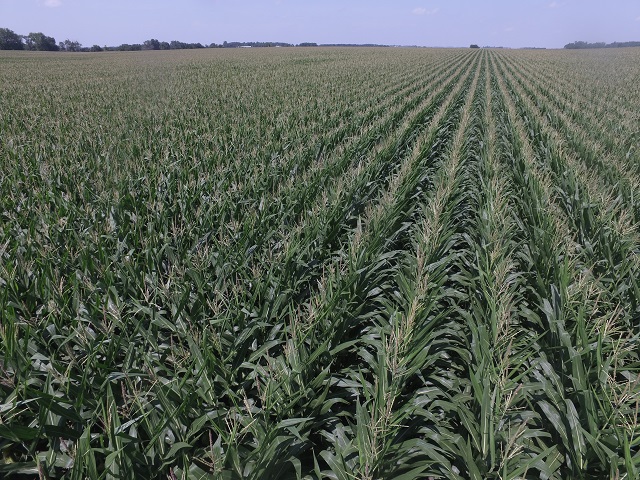 Figure 3 – The first planted corn that has adequate drainage looks fantastic and has already started to tassel.
REMARKS: Many events have occurred over the last month that have negatively affected the grain markets, especially soybean prices. The June USDA Acreage Report released on June 29th demonstrated more soybean acres and less corn acres than projected. The anticipated trade war with China officially began on July 6th and that has continued to keep the markets dropping. The soybean markets were also hit hard by that news in the USDA Monthly Supply & Demand Report released on July 12th that USDA is decreasing next year's soybean exports by 250 million bushels because of the tariffs. This resulted in U.S. ending stocks projected to increase from 465 million bushels in 2017-2018 to 580 million bushels for 2018-2019. These factors have all contributed to the lowest soybean prices in over ten years. The Monthly USDA Report showed that for corn, both ending U.S. stocks and world ending stocks are down. U.S. ending stocks for corn is projected to decrease from 2 billion bushels for 2017-2018 to 1.5 billion bushels for 2018-2019, which would be positive for the corn price if it were not for the current tariffs with China and Mexico and negative price pressure on soybeans. Cash corn prices have decreased over 50 cents and soybeans prices about $2.00 per bushel since Memorial Day.
It continues to be busy in our office as we have literally been scouting for weeds for spraying both corn & soybean herbicide, planting & replanting soybeans, planting natives cover for newly enrolled CRP, filing extensions for expiring CRP, certifying acres at the Farm Service Agency (FSA) & reporting acreage to crop insurance by the July 15th deadline. As well as paying crop expenses, monitoring grain delivery, conducting 2019 lease review/recommendations, and continuing to service various potential wind and solar projects that are affecting some of our clients' properties.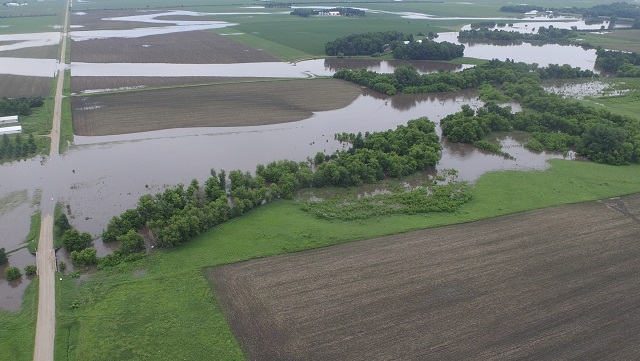 Figure 4 – The benefits of having land that borders streams enrolled in CRP are obvious during the high water experienced this year.
Growing-Degree Days
Location
5-1-2018 TO DATE INDICATED
TOTAL GROWING DEGREE DAYS
DEPARTURE FROM NORMAL
Lamberton
7-16-2018
1457
+226
Corn Growing Degree Days are calculated by subtracting a 50 degree base temperature from the average of the maximum and minimum temperature for the day. The daily maximum is limited to 86 degrees and the minimum is 50 degrees.
Grain Markets (July 17, 2018)

| | New Vision-Windom | Magnolia | Poet Biorefining-Bingham Lake | MnSP-Brewster |
| --- | --- | --- | --- | --- |
| Cash | | | | |
| Corn | 3.10 | 3.03 | 3.14 | N/A |
| Soybeans | 7.75 | 7.69 | N/A | 7.94 |
| October | | | | |
| Corn | 3.10 | 3.06 | 3.22 | N/A |
| Soybeans | 7.75 | 7.75 | N/A | 7.90 |
Rainfall

| County | City | June 16 to July 15 | March 15 to Date-2018 | March 15 to Date-2017 |
| --- | --- | --- | --- | --- |
| Cottonwood | Jeffers | 8.61 | 18.22 | 11.55 |
| Cottonwood | Windom | 8.06 | 20.88 | 10.72 |
| Jackson | Heron Lake | 7.90 | 17.96 | 13.42 |
| Jackson | Jackson | 9.68 | 22.95 | 13.95 |
| Martin | Trimont | 9.27 | 21.65 | 11.93 |
| Murray | Fulda | 14.28 | 24.83 | 13.70 |
| Murray | Slayton | 14.56 | 22.60 | 12.48 |
| Nobles | Round Lake | 12.96 | 24.67 | 12.14 |
| Nobles | Rushmore | 11.41 | 23.19 | 12.80 |
| Redwood | Redwood Falls | 12.99 | 22.64 | 16.21 |
| Rock | Magnolia | 11.81 | 21.56 | 11.63 |
Cody Adrian
Farm Management Advisor