Click here to download a printer friendly (pdf) version
CROP AND WEATHER REPORT
For the Monthly Report Ending July 15, 2017
GENERAL WEATHER FOR THIS AREA: Weather conditions in Southwestern Minnesota (SWMN) have been hot over the past month. Daytime high temperatures have ranged from 66-93 degrees and night time lows from 46-66 degrees since June 16th according to the Southwestern Minnesota Research and Outreach Center (SWROC) in Lamberton, MN. We have observed an abundant amount of sunshine in the past 30 days. According to the SWROC in Lamberton, we have had 1,222 Growing Degree Days that is 33 fewer than the average for this point in the year.
Rainfall has been variable with totals over the past month ranging from 2.2 to 4.7 inches. The main event was on the evening of June 28th, in which some areas around Heron Lake/Okabena to Slayton received 4.5 to 5 inches of rain, and most of the area received 1-2 inches of rainfall. The other significant rainfall was on the evening of July 4th, when there was about 0.25 to 1.5 inches of rain, mostly in Windom to Heron Lake to Jackson area. There have been a few instances of hail damage in the beans but it has not been severe or very widespread.
Total rainfall to date has been anywhere between 10 to 16 inches, which is 3-10 inches behind where we were last year. Overall, it is starting to get as dry as we have seen it in the past several years at this time of the growing season, but hopefully there is some rain in the forecast this week and we will see some relief from the hot/dry conditions. Statewide, we are being rated as having 75 percent adequate topsoil moisture and 85 percent adequate subsoil moisture.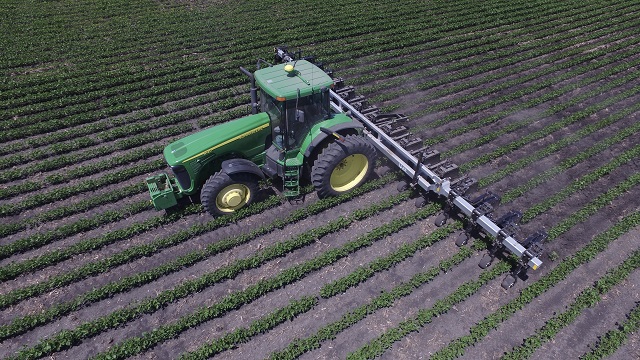 Figure 1 – Due to the weed difficulties some farmers are resorting to using row cultivators once again.
SOYBEANS: The soybean crop continues to develop. The plants are anywhere from six inches to "knee high" depending on the planting date. The regular rainfalls at the start of the growing season have allowed a great start to crop production but we are in need of more moisture because this excessive heat is starting to show stress on the plants.
Crop conditions for soybeans in Minnesota are rated 72 percent good to excellent. Nationally, 61 percent of the soybeans are rated good to excellent compared to 71 percent last year. Forty-eight percent of the soybeans in Minnesota have started blooming, which is identical to the report at this time last year. The five-year average is 56 percent.
Weed control has been overall good to date, as all herbicide applications have been completed at this point, except some cases of extreme weed pressure will have another application. Some farmers have again pulled out the row crop cultivators as another tool in fighting resistant weeds. One of the newest tools in soybean herbicide application is dicamba, but this has created some issues in terms of drifting onto neighbors "non-dicamba" beans. We have been monitoring this closely and this is why we did not plant many fields to dicamba resistant beans. The soybeans are getting close to canopy at this point. This will help in the prevention of new weed generation and growth due to limiting sunlight for the unwanted plants.
Soybean aphids are a constant issue in modern soybean production. In the coming weeks, we will begin monitoring for aphid pressure. If, and when, pest populations reach an economic threshold, we will be taking appropriate control actions.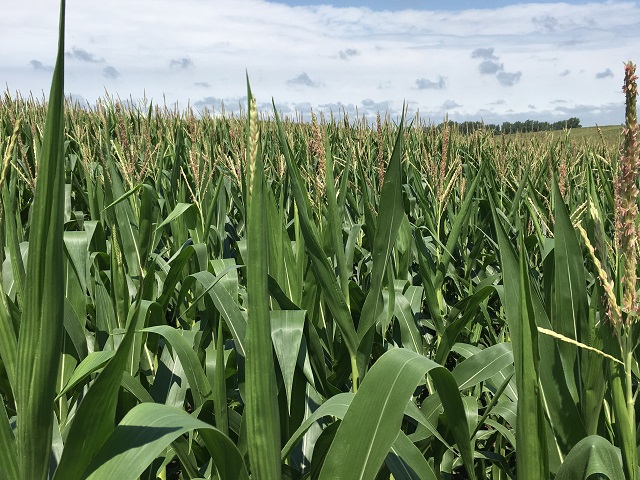 Figure 2 – The early-planted corn has already begun to tassel.
CORN: The corn crop is currently about shoulder high, overall it is looking great. Some of the earliest planted corn is starting to push tassels and is close to beginning the pollination stage of the plant life cycle.
Crop conditions in Minnesota are rated at 79 percent good to excellent for the corn. Nationally, 64 percent of the corn is rated good to excellent, which is quite a bit lower than the 76 percent rating at this time last year.
Average to above average yields is expected, but dependent on the available moisture in the next month. Herbicide and mid-season nitrogen application were completed and the crop should not need any further inputs through harvest. Weed control in the corn has been good. We have a few more tools for combating weeds in corn over soybeans.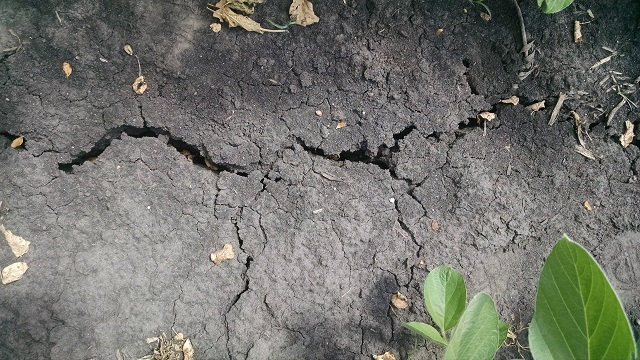 Figure 3 – The ground has started to crack from the extended dry/hot weather. Fortunately, there looks to be some relief in the forecast this week with rain on the way.
REMARKS: Many events have occurred over the last month that have affected the grain markets. Hot/Dry Conditions in North Dakota, South Dakota, Nebraska, and parts of Iowa have caused concern about corn, soybean, and wheat production, which has supported the grain markets during the past month. The June 30th Acreage Report demonstrated more corn acres and less soybean acres than anticipated, which had adverse effects for the corn market. USDA Monthly Supply & Demand Report released July 12th showed more current and ending U.S. stocks, and more world ending stocks, all negative for corn and soybean prices. Weather forecasts of relief from the hot/dry conditions caused corn and soybean prices to decrease 15 and 45 cents in one day, respectively on July 13th. Cash corn prices have ranged over 45 cents and soybeans prices about $1.20 per bushel in the past month.
USDA estimated that soybean production for 2016-2017 increased from June estimates of 4.255 billion bushels to 4.26 billion bushels. U.S. average soybean yields were left unchanged at 48.0 bushels per acre. National corn production was increased from the June estimate of 14.065 billion bushels to 14.255 billion bushels. Average corn yields were left unchanged from June at 170.7 bushels per acre.
USDA anticipates ending stocks for (2017-2018) corn crop to increase to 2.37 billion bushels from the estimate of 2.295 billion bushels from the June report. Soybean ending stocks for the 2016-2017 crop year were pegged at 410 million bushels in July, down from 450 million bushels in the June report. This was received by the market as bullish information, although the carryover is still a large amount and more than we have had in the U.S. in the past several years.
All of this activity in the grain markets has allowed our clients to sell both corn and soybeans in the past couple of weeks. Our clients are 90% sold in 2016 corn, 10% sold in 2017 corn, 100% sold in 2016 soybeans, and 20% sold in 2017 soybeans. We anticipate making more sales (especially corn) in the coming weeks.
It is still busy in our office as we conduct seed & herbicide settlements, grain sales/delivery/settlements, CRP maintenance/cost-sharing, crop scouting, 2018 lease review, conservation project installation, and continue to service various wind and a potential solar project.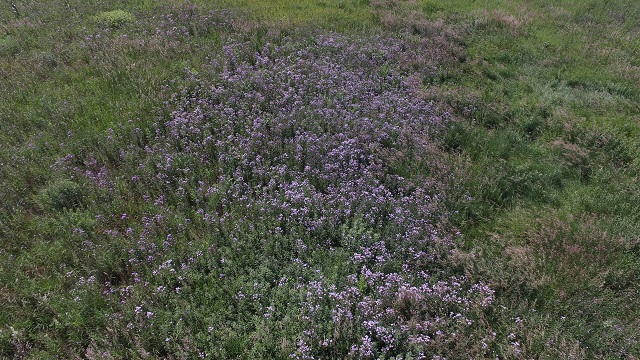 Figure 4 – The weather this year has been very conducive for Canadian Thistles and have had to have extra spraying and mowing done to ditches and CRP to control the issue.
Growing-Degree Days
Location
5-1-2017 TO DATE INDICATED
TOTAL GROWING DEGREE DAYS
DEPARTURE FROM NORMAL
Lamberton
7-17-2017
1222
-33
Corn Growing Degree Days are calculated by subtracting a 50 degree base temperature from the average of the maximum and minimum temperature for the day. The daily maximum is limited to 86 degrees and the minimum is 50 degrees.
Grain Markets (July 17, 2017)

| | New Vision-Windom | Magnolia | Poet Biorefining-Bingham Lake | MnSP-Brewster |
| --- | --- | --- | --- | --- |
| Cash | | | | |
| Corn | 3.17 | 3.10 | 3.17 | N/A |
| Soybeans | 9.15 | 9.10 | N/A | 9.35 |
| October | | | | |
| Corn | 3.36 | 3.30 | 3.38 | N/A |
| Soybeans | 9.18 | 9.12 | N/A | 9.27 |
Rainfall

| County | City | June 16 to July 15 | March 15 to Date-2017 | March 15 to Date-2016 |
| --- | --- | --- | --- | --- |
| Cottonwood | Jeffers | 2.24 | 11.55 | 15.24 |
| Cottonwood | Windom | 3.17 | 10.72 | 14.89 |
| Jackson | Heron Lake | 4.57 | 13.42 | 15.57 |
| Jackson | Jackson | 4.74 | 13.95 | 19.47 |
| Martin | Trimont | 2.41 | 11.93 | 20.01 |
| Murray | Fulda | 3.39 | 13.70 | 16.37 |
| Murray | Slayton | 3.61 | 12.48 | 15.07 |
| Nobles | Round Lake | 3.16 | 12.14 | 20.37 |
| Nobles | Rushmore | 3.40 | 12.80 | 17.47 |
| Redwood | Redwood Falls | 4.27 | 16.21 | 15.82 |
| Rock | Magnolia | 2.57 | 11.63 | 16.51 |
Cody Adrian
Farm Management Advisor