Click here to download a printer friendly (pdf) version
CROP AND WEATHER REPORT
For the Monthly Report Ending October 15, 2018
GENERAL WEATHER FOR THIS AREA: The area awoke to the season's first accumulating snowfall on October 14th. We have been hearing of totals of 3-6 inches from this event. This combined with rainfall the first half of the month has made for a slow and frustrating start to harvest. Producers were able to combine some corn at the end of September to mid-October but very few soybeans have been harvested. The forecast is for sunny and dry weather for the next 10-14 days, so there is some optimism harvest activities will commence again soon.
High temperatures over the past month have ranged from 37 to 93 degrees, with lows ranging from 27 to 68 degrees over the same time period, as recorded at the Southwestern Research and Outreach Center (SWROC) in Lamberton, Minnesota. Temperatures have been below average for all but one day in the past three weeks. The forecast is for below average temperatures for most of the balance of October. Unfortunately, this will not be conducive for drying out the crops and soil.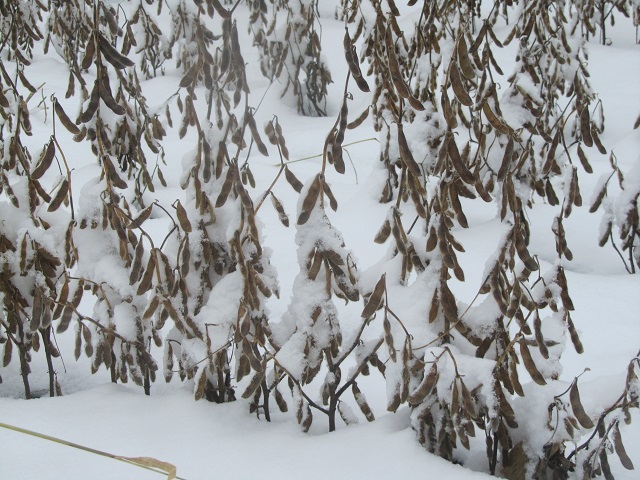 Figure 1 – Snow the morning of October 14, 2018.
SOYBEANS: Limited soybean harvesting began the last week of September. Rainy, overcast conditions have prevented dry down of the beans and reports of 15% + moisture have been the normal (13% is ideal). Yields to date have been good with most results in the 50-60 bushel per acre range. The weather forecast moving forward appears to be much more favorable for harvesting. With the size of the equipment today, our tenants will be able to harvest soybeans in short order when conditions warrant.
According to the Minnesota Ag Statistics Service (MASS), 37% of the soybeans in Minnesota have been harvested as compared to 42% last year. The five-year average for this date is 69%, so we are certainly behind. Once harvest is finally finished, soil sampling, applying fertilizer, and fall tillage will be completed in preparation of next year's corn crop.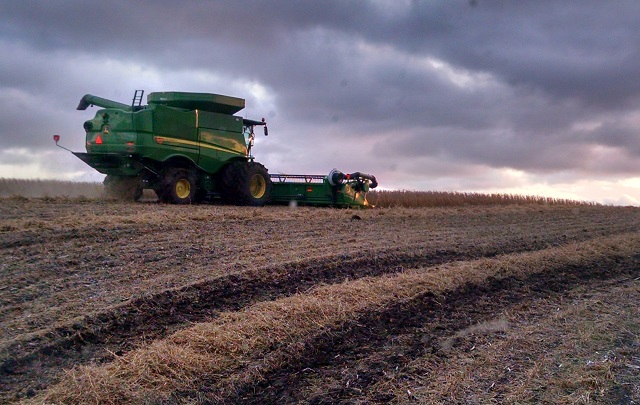 Figure 2 – This combine is harvesting soybeans near Jeffers in late September. There are definitely a few tracks being left by the machinery this fall because of the wet conditions.
CORN: Corn harvest began the last week of September. Producers opted to move into corn since harvest conditions for soybeans was not conducive. We are seeing some stalk degradation across the area but for the most part the corn is standing well. Yields are and will continue to be very variable across the region this fall. Yield results of 120-220 bushels per acre are not uncommon and sometimes will range from 0-250 in the same field. It does appear that corn planted in early May will show a stronger yield performance than corn planted at the end of the month.
As of October 15th, 18% of Minnesota's corn crop has been harvested. This compares to 7% last year and just slightly behind the five-year average of 20%. If we get good harvest conditions going forward, I would anticipate that producers will go back to soybeans leaving the corn until they complete bean harvest. The average corn moisture on the acres of corn that have been harvested is about 22% across the state. The Minnesota Ag Statistics Service (MASS) has indicated that 75% of the Minnesota crop is in the good to excellent category, which is six points above the level at this time last year.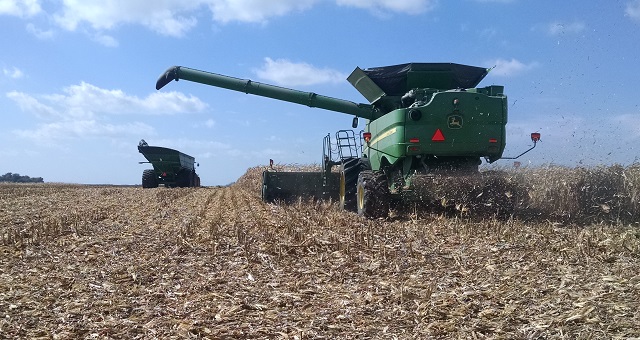 Figure 3 – Harvesting corn. The combine will off load corn on the go into the waiting dump cart allowing no interruption of harvesting.
REMARKS: The USDA Monthly Supply and Demand Report on October 11th was bullish to the corn and soybean markets. Corn production estimates were lowered 49 million bushels from the previous month. Corn yields were estimate at 180.7 bushels an acre, down 0.6 bushels per acre from the previous report. Total production is now approximately at 14.778 million bushels. Soybeans were reduced by three million bushels in the October report to a production level of 4.690 billion bushels. It appears now that seasonal price lows were established in September.
The USDA estimate of global ending stocks for corn is about 198.21 million metric tons. This is less than last year's prediction of 201.1 million metric tons. Worldwide soybean ending stocks are projected at 96.65 million metric tons, up 1.91 million metric tons from September's prediction. Grain market prices have been sluggish over the summer and into early fall. After the USDA October 11th report, we did see some positive upward movement in both the corn and soybean markets. Recently, corn and soybeans prices have rebounded approximately $0.25 and $0.75 per bushel respectively. Corn prices are actually higher at this point in 2018 than they were last year.
We have been receiving Conservation Reserve Program payments (CRP) for 2018. Since we do not have a new Farm Bill in place, we will be unable to sign up any further CRP or CREP acres until we do. When harvest finishes up, we will be completing documentation to take advantage of the Market Facilitation Program payments for our clients that are eligible.
We will be very busy monitoring harvest and verifying crop production, grain marketing, making fertilizer recs/applying fertilizer/organizing fall tillage, processing farm program and Conservation Reserve Program (CRP) payments, making cash rent recommendations and negotiating rental rates. Depending on weather conditions, we do have some client tile projects that we would like to get completed yet this fall.
The 2018 crop production has been both frustrating and challenging at times. When the calendar indicated it was time to plant corn we still had several feet of snow on the ground. Rain events have been frequent and copious at times. We did get adequate heat units this year to move the crop to maturity ahead of historical averages. As we previously noted, the precipitation in the first half of October has delayed our ability to get the crop harvested. The forecast for the next two weeks looks dry however and your tenants are very adept at getting the crop out. We appreciate everyone's interest and involvement in our crop production here in Southwestern Minnesota.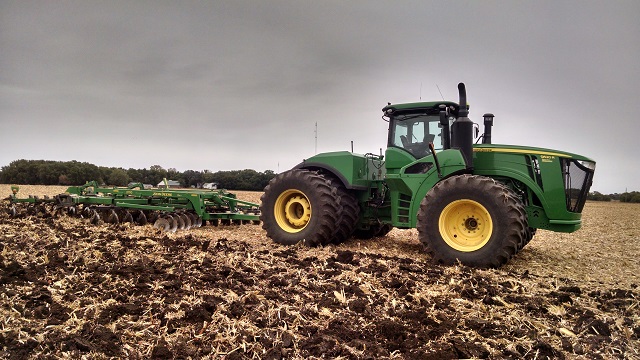 Figure 4 – Deep ripping of corn stubble after harvest. This will be the first operation to get this field ready for soybeans in 2019.
Growing-Degree Days
Location
5-1-2018 TO DATE INDICATED
TOTAL GROWING DEGREE DAYS
DEPARTURE FROM NORMAL
Lamberton
September 30-2018
2794
+258
Corn Growing Degree Days are calculated by subtracting a 50 degree base temperature from the average of the maximum and minimum temperature for the day. The daily maximum is limited to 86 degrees and the minimum is 50 degrees.
Grain Markets October 15, 2018

| | New Vision-Windom | Magnolia | Poet Biorefining-Bingham Lake | MnSP-Brewster |
| --- | --- | --- | --- | --- |
| Cash | | | | |
| Corn | 3.26 | 3.25 | 3.34 | N/A |
| Soybeans | 8.00 | 8.01 | N/A | 8.26 |
| January | | | | |
| Corn | 3.40 | 3.37 | 3.51 | N/A |
| Soybeans | 8.14 | 8.10 | N/A | 8.31 |
Rainfall

| County | City | September 16 to October 15 | March 15 to Date-2018 | March 15 to Date-2017 |
| --- | --- | --- | --- | --- |
| Cottonwood | Jeffers | 5.44 | 33.36 | 29.72 |
| Cottonwood | Windom | 4.57 | 33.03 | 27.58 |
| Jackson | Heron Lake | 4.20 | 31.61 | 28.86 |
| Jackson | Jackson | 5.16 | 36.68 | 29.66 |
| Martin | Trimont | 4.75 | 34.49 | 25.27 |
| Murray | Fulda | 4.88 | 36.37 | 33.09 |
| Murray | Slayton | 5.83 | 35.06 | 27.63 |
| Nobles | Round Lake | 5.77 | 39.02 | 29.75 |
| Nobles | Rushmore | 5.43 | 36.25 | 32.31 |
| Redwood | Redwood Falls | 6.47 | 35.25 | 32.92 |
| Rock | Magnolia | 6.01 | 36.64 | 26.26 |
Charles P. Dewanz
Farm Management Advisor
Real Estate Salesperson